The C700 Labelling Package from £949
Start printing your own labels, Tags and Posters up to 1.3Meters Tall with the "Qsys C700 Package" and get a label sample pack
To compete with online stores, modern retailing requires a new and fresh approach to improving the "Visiting Shoppers Experience". Shoppers love information which can be difficult for the smaller retailer to get to grips with.
Qsys.co.uk are pleased to announce their collaboration with Oki Colour Printers & Bluepoint Tags and Labels bringing a fresh flexible approach in store marketing with a "Complete Point of Sale" printing solution in one simple cost effective package. Large Posters & Banners, Shelf Labels, Bed Cards, Sticks, Ties and labels etc. can now be produced in house by any grower, nursery, or garden centre. Production point of sale martials quickly with great descriptions including care advice, soil conditions, aspect, growth height & spread, hardiness and many more pre-defined properties directly from the Qsys database. Save prices per size for use again and again.
Learn how "Qsys Label Producer" with its database of over 21,000 Plants, with its database of over 21,000 Plants, Shrubs & Trees will produce anything from a "Tree Tie" to a 1.3M long poster on the New Oki C712 in no time at all and from as little as just £949. Together, Qsys Oki & BluePoint can handle all the printing needs of a modern Nursery or Commercial Grower and a busy sales office.
"Qsys Infinity Starter Bundle £949" including Qsys Label & Poster Producer with 21,000+ Plant/Shrub/Tree Database + Oki 712n A4 Laser Label & Poster Printer + Sample pack of BluePoint Labels or Ties or Stick in Labels
Qsys Infinite Labels by Bluepoint
As a strategic supplier, Bluepoint bring welcome competition to the market, and Qsys will be actively supporting them by including templates for all standard labels, tags and bed cards in their Infinite Label Solution software. Together we can deliver a complete package of made to measure or fully bespoke labels and tags with pre-printed logo branding ,all in one package. Bluepoint have a wealth of
experience manufacturing the complete range of horticultural labels and tags for both the UK and European markets. We also offer foils and printer servicing.
Qsys has two modules for producing Labels & Tags. Infinity label Producer & Infinity Publisher. Infinity Label Producer actively creates and manages label & tag production from all appropriate points in our software suite.
Labels for your nursery, labels for your client nurseries, labels for your production stocks, labels for your growing on stocks – these are typically the kinds of labels and tags that Retailers, Nurseries and Commercial growers may need. Qsys Infinity Label Producer is built right into the heart of Qsys Infinity and can produce labels for you from all processes. Visit Bluepoint here
Retail Solutions For Garden Centres & Nurseries
Our Retail Solutions enable Garden Centres & Nurseries to produce an extensive range of visual communications and in-store advertising on-site, on demand saving precious time. The ability to print on a wide range of waterproof media in different formats that is UV resistant for up to 12 months, enables retailers to optimise indoor and outdoor sales areas to improve the customer experience, advertise specific products and drive overall sales.
Waterproof Plant Pot labels
Help customers visualise how plants will look when they bloom, with colour printing on waterproof pre-cut media.
Waterproof Plant loop
Provide clear instructions to customers on how to care for their plants with colour printed waterproof plant loops.
Waterproof Shelf Edge Labels
Provide clear pricing and plant specifications on waterproof shelf edge labels.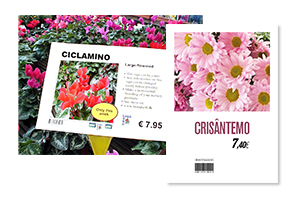 Waterproof Plant Bed Cards
From indoor and outdoor signage displaying pricing and product information, provide customers with the information they need to help educate and persuade.
Waterproof Self Adhesive Labels
Print on pre-cut waterproof self-adhesive labels that stick directly onto plant pots. Include information on plant names and price, as well as images of the flower type and colour.
Waterproof Hanging Banners & Posters
With a range of different plants, shrubs and flowers, help customers navigate your store with clear hanging signage up to 1.2m in length, that is waterproof and self adhesive.
*Product must be registered within 30 days of purchase.
Prices Exclude VAT